Many assume you can only use Bitcoin, the popular digital currency, to purchase items from the internet. However, Bitcoin has recently gained attention due to its enormous value jumps. More businesses are allowing customers to buy with Bitcoin, just like you would with any debit card or cash.
Virtual currencies as a form of payment provide unique advantages for many people, allowing you to bypass some of the traditional complications surrounding crypto assets.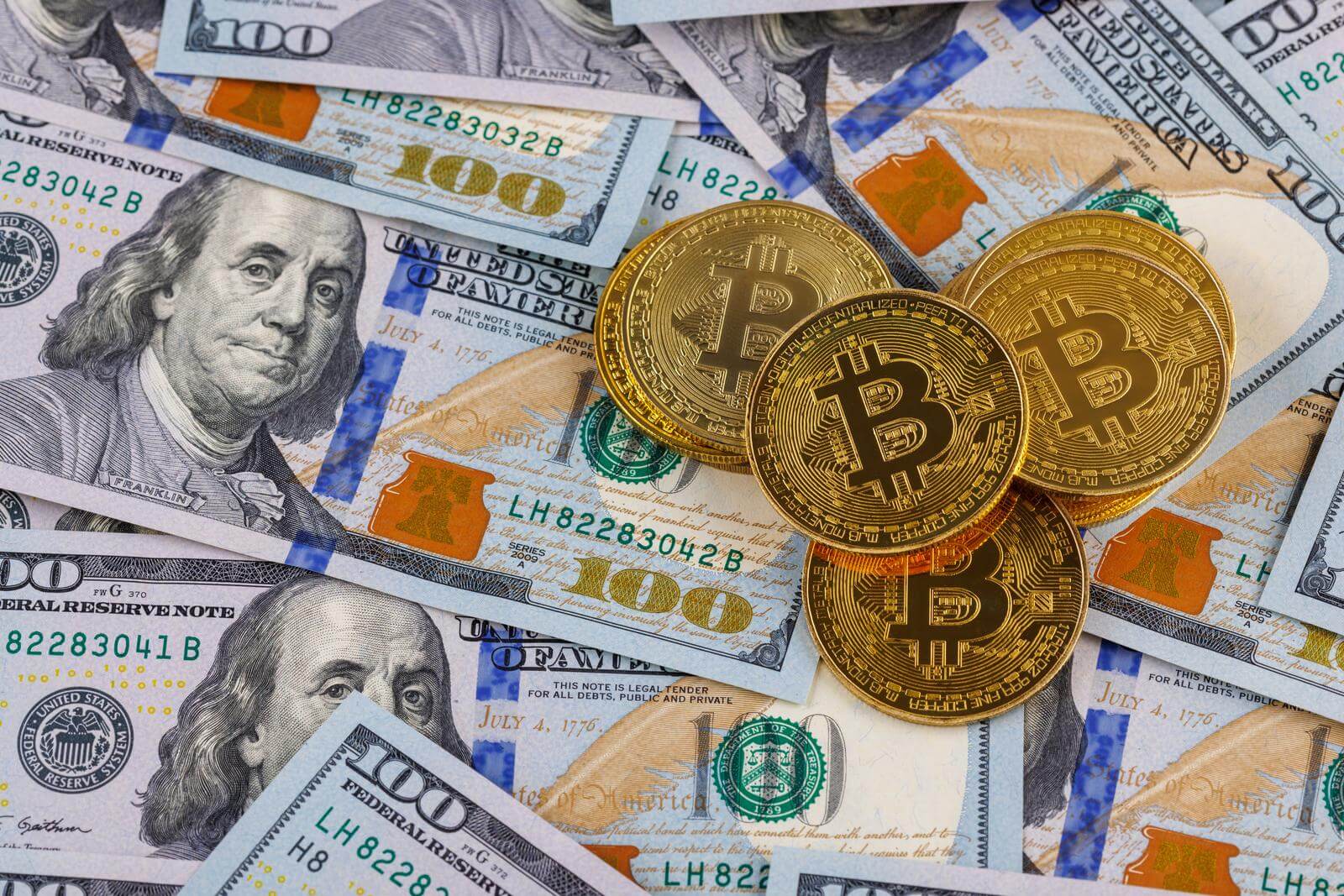 The Purchase Power of Bitcoin
Many collectors use Bitcoin for long-term investment strategies rather than instant purchases because of increased fees, complex processing capabilities, and impressive appreciation rates.
However, Bitcoin and other large organizations have recently made it easier for anyone to use their stored digital assets to purchase different products. As technology evolves with incredible apps and easy-to-use interfaces, the purchasing power of Bitcoin increases.
Why Was Bitcoin Created?
Most currencies in the world are national currencies, also called fiat money. At its initial release in 2009, Bitcoin was the first digital or virtual currency, later named cryptocurrency due to cryptography securing it. It is a decentralized network of blockchain technology.
The original creators intended to start a new currency that people could use just like cash. It was initially designed to be a peer-to-peer (P2P) electronic system, similar to Google Wallet, PayPal, or Venmo, where you could store bitcoins inside the app and use them to trade with others or purchase items.
Unfortunately, the extreme value fluctuations with Bitcoin made this idea a pipe dream. Given the erratic oscillations of Bitcoin, you might pay $4 for a gallon of milk with Bitcoin on Monday, only to find out the coins you paid would have been worth $400 on Tuesday.
Because of these issues, Bitcoin became a long-term investment gold mine instead. Crypto investors now purchase digital coins and let them sit in an account, generating value similar to precious metals or stocks until recently.
How Can You Purchase Items With Bitcoin?
You can buy with Bitcoin the same as ApplePay, PayPal, or other P2P systems. Most larger and many small companies accept these digital payment options at checkout. You can also download digital wallets for easier storage and access to your virtual Bitcoin currency.
It's important to note that Bitcoin has strict limits on transactions. While major debit and credit cards allow billions of transactions per second, Bitcoin only allows seven. After a payment, the transaction typically remains pending for longer than other forms of payment.
Bitcoin's Lightning Network (LN), introduced in 2015, acts as a second layer in Bitcoin's network that enables off-chain transactions. Lightning Network can speed up the processing of transactions as it lowers Bitcoin's blockchain costs.
If you pay the Lightning Network fees, you can avoid these complications. If you're looking to turn Bitcoin into your primary currency, paying the fee is recommended to make checkout easier.
Why Buy With Bitcoin?
Buying with Bitcoin creates a few hurdles, though it offers rewards for many shoppers. Your credit card might have a credit or transaction amount limit, whereas Bitcoin maintains no limit. With its purchasing power, Bitcoin is an excellent tool for expensive items due to increased security and reduced spending limits.
Bitcoin is also a convenient choice for those who can't procure a debit or credit card. Rather than stuffing your wallet with cash, you could transfer your earnings to Bitcoin for easy shopping experiences.
What Can You Actually Buy With Bitcoin?
Most people are shocked when they learn how much they can buy with Bitcoin now. Everything from a luxury watch to flight insurance is fair game. By 2020, most large corporations and one-third of small businesses were accepting Bitcoin as a valid payment method, according to the HSB nationwide survey conducted by Zogby Analytics.
Cars
Buying your dream car often feels like a fantasy until you check your Bitcoin account and realize you could have the keys in your hands today. You can purchase new and used cars with Bitcoin from different manufacturers and sellers. Note that Tesla stopped accepting Bitcoin in 2021.
If you wish to buy with Bitcoin, you can shop from an online retailer that accepts the digital currency, like:
BitCars
AutoCoinCars
Prestige Cars Kent
These retailers sell everything from Lamborghinis to motorhomes, so you'll surely find something that suits your needs.
Technology and E-Commerce Stores
Many online retailers, including those that sell tech products, accept Bitcoin. As digital currency becomes more popular, e-commerce websites welcome the modern purchase method. You can buy with Bitcoin from:
Newegg
Shopify
Microsoft
Amazon
Walmart
On these sites, you'll find everything from drones and televisions to computer software kits and electronic kitchen supplies.
Insurance
While you may not yet find many auto, home, or health insurance providers accepting Bitcoin, you can protect some flights using digital currency. The company flyExclusive accepts Bitcoin, and all other cryptocurrency payments, for Private Charter Flights and Jet Club Memberships. When you buy either of these packages, you can pay for the additional insurance to protect your purchase if you have to cancel or reschedule.
Jewelry
Many invest in jewelry and luxury watches because of their unique abilities to hold value over time, even when used daily. Some retailers have made purchasing jewelry with Bitcoin an option, whether you want a shiny new timepiece on your wrist or wish to diversify your investments. You can shop directly from:
Jomashop
CRM Jewelers
Wrist Aficionado
Prestige Time
Real Estate
If someone told you they bought their house with Bitcoin, you likely wouldn't believe them. Most people are surprised to learn that buying a property with Bitcoin isn't only possible but is happening with increasing frequency. Doing so allows you to transfer one riskier investment into a more stable one with steady appreciation rates.
You can buy properties with Bitcoin using global real estate networks that accept the digital currency, including:
Bithome
Mercado Libre
Caliber and Partners
WeWork
Pacaso
Condos.com
Sporting Games and Events
With Bitcoin as a purchasing option on the rise, a couple of sporting games and events allow you to buy tickets for the game. For example, you can score tickets using Bitcoin for the following games:
Dallas Mavericks (The National Basketball Association)
Oakland A's (Major League Baseball)
Not only can you score courtside seats with Bitcoin, but other events hosted at these arenas also accept Bitcoin as a form of payment.
Flights and Hotels
Are you looking to book your next vacation without emptying your bank account? Many travel agencies providing flights, hotels, and bundle packages now accept Bitcoin payments. These websites constantly compete for customers, so you can easily score excellent deals.
Plan your next vacation with Bitcoin using:
Booking.com
Expedia
The D Hotel in Las Vegas
AirBaltic
Virgin Galactic Spaceline (yes, tickets to space!)
Hotels.com
Airbnb
Clothing
You can also amp up your wardrobe using Bitcoin. Many popular brands and retailers allow you to buy with Bitcoin from their online stores. Those who don't accept Bitcoin might offer gift cards you can purchase with your digital currency instead.
Some popular stores that sell gift cards to Bitcoin purchasers include:
Columbia
H&M
Fanatics
Express
American Eagle
Quite a few small boutiques also accept Bitcoin payments.
Art
Like real estate, art is another incredible investment opportunity that can secure your finances for the future. Purchasing from a local seller today might leave you with enormous gains in the future.
Aside from small art purchases, you can also use Bitcoin to buy from sizeable collectible auction houses, including Phillips in Hong Kong, Maecenas, and many American homes.
You could purchase anything from a rare Andy Warhol to a local coffee shop painting, depending on where the piece is for sale. You might make even more money from your art investment than Bitcoin itself!
Charity Donations
If you look at your Bitcoin account and realize you have enough funds to donate to those in need, you can! Many nonprofit organizations accept Bitcoin donations. Using digital currency allows you to avoid excessive donation fees and remain anonymous.
Some popular organizations include:
The American Red Cross
Wikimedia Foundation
Wikileaks
The American Cancer Society
The Giving Block
UNICEF
The Water Project
Run 2 Rescue
Save the Children
Video Games
In-store video game purchases are a thing of the past. Today, most gaming consoles connect to app stores where you can purchase games online, and many allow you to do so with Bitcoin. Considering that video games are digital assets, it only makes sense for these companies to embrace the fully-digital lifestyle.
Some popular gaming consoles and companies that allow you to buy with Bitcoin include:
Xbox (Microsoft)
Playstation
Nintendo
Humble Bumble
Big Fish Games
You can buy popular games like Fortnite, fund your live subscriptions, or purchase in-game add-ons using Bitcoin with most of the above providers.
Education
Expanding your education allows you to invest in your future and grow your career. A growing list of colleges and universities, large and small, are now accepting Bitcoin for tuition payments, with Kings College in New York pioneering the trend in 2014.
Moreso, The University of California, Berkeley, is accepting gifts from donors in cryptocurrency. Each participating school offers different types of programs to fit your passions.
PayPal Purchases
In May 2022, PayPal announced its new "Checkout with Crypto" option, allowing you to fund any PayPal purchase using Bitcoin or other digital currencies. Many online and in-store businesses accept PayPal purchases, meaning they now accept Bitcoin. PayPal converts your Bitcoin into U.S. cash before sending the money to your seller, making the transaction clear and convenient on both ends.
Restaurants, Supermarkets, Food Delivery
Besides rent or a mortgage, what do you spend the most money on? Most people would answer food. Luckily, you can now use Bitcoin to purchase food from numerous restaurants, grocery stores, and delivery services.
Some popular restaurants and supermarkets accepting bitcoins as payment include:
Burger King
Subway
Whole Foods
Ruth's Chris Steak House
Carraba's Italian Grill
Domino's
If none of these suit your fancy, you have infinite options to choose between when opting for a food delivery service. UberEats and DoorDash accept gift card purchases with Bitcoin, so you can get food from all your favorite local restaurants and chains using your digital currency.
Furniture and Home Improvement
Like buying clothes or other retail goods, you can purchase furniture and home supplies using Bitcoin. Many popular renovation suppliers and furniture retailers now accept popular digital currencies, so you can upgrade your home without draining the bank. We recommend shopping from:
Home Depot
Overstock.com
Wayfair
World Market
Pottery Barn
Lowes
Protect your purchase and keep your checking account high by using Bitcoin.
Precious Metals
Gold, silver, and other precious metals are prevalent investments because they hold their value well. Many popular precious metal dealers accept cryptocurrency, like American Gold Exchange, APMEX, Bullion Exchanges, Global Vault Group, JM Bullion, MintBuilder, and more.
You can broaden your investment portfolio and purchase precious metals using Bitcoin as payment. Not only will you help your future self, but you won't break your bank doing it.
Investing in IRAs with Cryptocurrency
Fifty years ago, purchasing an IRA (individual retirement account) with digital currency would have seemed like something out of a science fiction movie. But in today's world, investing in a crypto IRA is another excellent way to keep your future investment safe. At My Digital Money, we offer the top crypto IRA software platform, making it easy for anyone to invest in crypto or trade in cash. There is no "one-size-fits-all" for investing, and our specialists don't treat your future as such. We tailor each account to your personal needs and set you up for success.
Contact us to learn more about our Bitcoin investment services. Our experts at My Digital Money are happy to answer any questions you may have about cryptocurrencies and investments. Get in touch with us today by using our online contact form or calling 833-636-2008.