As we move into the 21st century, new currencies, financial vehicles, and economies appear online daily. This has led to the rise of a new type of investment - NFTs, or non-fungible tokens.
Along with the surge in NFT popularity, an entire industry supporting these crypto-assets has also emerged. Many of these companies, also known as "NFT stocks," have since become publicly traded on various exchanges.  This article will examine some of the fastest-growing and most exciting NFT stocks available today.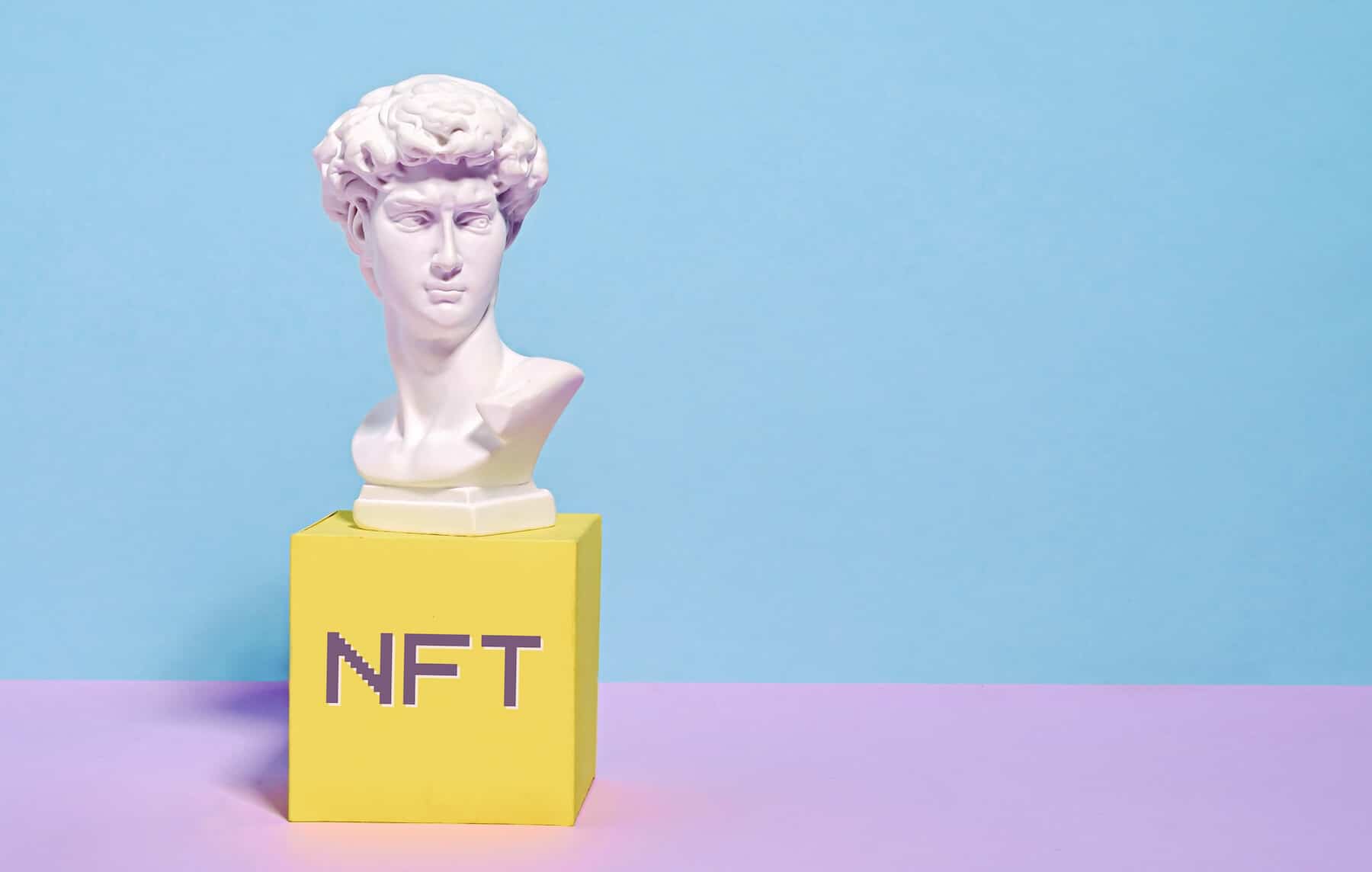 What is an NFT?
Before we get into some of the NFT stocks on our list, we must first define what an NFT is to set the stage.
NFTs are digital assets that are stored on a blockchain. They can represent anything from a piece of art, an original song, or even Jack Dorsey's first tweet.
NFTs are "non-fungible," meaning they can be verified as the original and cannot be cloned or forged. This non-fungibility is what gives NFTs their scarcity and value.
NFTs can be bought and sold on exchanges just like any other stock, digital currency, or piece of art. While the value of an NFT may not be as straightforward as a stock's price, the price is generally based on demand for the NFT and scarcity.
What Are NFT Stocks?
While some may think an NFT stock is a new crypto stock offering, it is just a company that operates in the NFT space and is publicly traded, for example, Lucky Block, an NFT exchange. NFT stocks offer investors a way to profit from the growth of the NFT market without actually investing in NFTs themselves.
Investing in stocks that are tied to the NFT space allows investors to gain exposure to the space with much lower risk, and it allows them to diversify more. Instead of buying just one NFT that could succeed or fail, you can invest in multiple stocks that enable you to hedge your bets and mitigate risk. On the other hand, this type of investment strategy isn't likely to turn you into an overnight millionaire like some other NFT investors.
What Are the Best NFT Stocks Right Now?
Now that you have a better handle on NFTs and NFT stocks let's look at some of the top stocks this year. We've tried to include companies covering various aspects of the NFT industry, but if you think we've missed something, send us an email and let us know!
OpenSea
The top NFT stock to watch on our list is not even a publicly-traded stock yet! OpenSea is the first and largest NFT marketplace, founded in 2017 by Devin Finzer and Alex Atallah. While you can't currently buy OpenSea stock on any exchange, there are some rumblings about an IPO.
OpenSea saw massive growth in 2021, growing from $95 million in revenue in February 2021 to $2.75 billion in revenue in September 2021. As of January 2022, the company had a valuation of just over $13 billion, making it one of the hottest companies to watch in the NFT space.
eBay
Unlike some of the other stocks on our list, eBay is one that just about everyone on the planet is familiar with. Part of the first wave of "major websites" in the 90s, eBay has established itself as one of the largest online marketplaces in the world.
In addition to letting users buy and sell physical goods, the company recently announced that it would allow users to buy and sell NFTs on its platform. eBay also recently launched 13 limited-edition NFTs in partnership with OneOf and hockey legend Wayne Gretzky. While investing in eBay does not mean you're directly invested in an NFT, the company is aligned well with the space and could experience related growth.
Buying eBay stock is as easy as buying any other stock. Simply use your trading platform of choice to find it by its ticker, "EBAY." Currently, it's trading at about $42 per share.
Coinbase
Coinbase is one of the Internet's largest and most popular cryptocurrency trading platforms. Chances are, if you've bought cryptocurrencies online, you may have used Coinbase.
Recently, Coinbase released the beta version of Coinbase NFT, its NFT trading platform. Considering its market share and popularity among retail crypto traders, Coinbase NFT will likely be a significant part of the NFT ecosystem.
Buying stock in Coinbase is easy since it's now traded on NASDAQ. Just search your trading platform of choice for the ticker "COIN." Currently, you can pick up a share of Coinbase for about $50.
DraftKings
DraftKings is one of the world's most well-known fantasy sports and sports betting companies. Draftkings holds daily, weekly, and even season-long fantasy sports contests in which players can win real money.
In addition to their fantasy sports contests, they offer mobile and online betting to players in various states around the United States (based on legality). In addition to the online presence, DraftKings has physical sportsbooks in multiple casinos.
DraftKings' also recently started selling various NFTs of sports heroes. The first set of NFTs released included Wayne Gretzky, Naomi Osaka, Tony Hawk, Tiger Woods, Tom Brady, Usain Bolt, Derek Jeter, and Rob Gronkowski. A new set of NFTs in collaboration with Metabilla was recently announced in May 2022. This release is said to be baseball themed and is designed to look like vintage baseball cards.
DraftKings is publicly traded under ticker DKNG at about $11.50 at the time of writing.
Decentraland
Decentraland is a 3D virtual world that is part of the Metaverse that can be accessed via an Internet browser. Founded in 2015, Decentraland was designed to be just like the real world, so users can buy properties, stocks, coins, and just about anything else you can buy in the real world. The first properties started selling in 2017 for about $20; however, at that time, Decentraland was still relatively obscure.
Decentraland started to take off in 2020 when it opened its doors to the public at the beginning of the NFT boom. By April 2021, properties that were at one time going for $20 were now going for anywhere from $6000 to $100,000 as major corporations and speculators wanted to get into the market.
While you can't buy stock in Decentraland in the usual sense, you can buy MANA, the cryptocurrency that backs all of the transactions on Decentraland. Because there is not a lot of MANA in circulation, the price can be very volatile. Currently trading around $.84, it has gone as high as $5.47 in September 2021.
Mattel
Mattel is one of the oldest and largest toy companies in the world. Founded in 1945, it has produced several famous toy lines, including Barbie, Hot Wheels, Fischer-Price, Polly Pocket, and UNO, just to name a few.
In June 2021, Mattel announced that it would be entering the NFT space by launching a series of Hot Wheels NFTs in its toys as an art collection on Mattel Creations. They have also recently released a collection of Barbie NFTs in partnership with major fashion brand Balmain.
Mattel trades on NASDAQ under the ticker MAT for about $21 per share. You can invest in this NFT stock using your stock trading platform of choice.
Nifty Gateway
Like OpenSea, Nifty Gateway is another popular marketplace where users can buy and sell NFTs. Nifty Gateway is owned by the "Facebook-famous" Winklevoss twins. Featuring auctions from some of the biggest names in the NFT space, Nifty Gateways has successfully carved out its place in the "NFT" space and formed some major partnerships.
In March 2021, Nifty partnered with the exclusive auction house Sotheby's. It even created a partnership with Playboy, resulting in Playboy's stock skyrocketing. While you can't buy stock in Nifty Gateway yet, you can keep an eye on who they may be planning partnerships with as an investment.
Cloudflare
Cloudflare is a company that offers a Content Delivery Network (CDN), DDOS Mitigation services, and various other web security and technology services. While many people outside of the tech industry may have never heard of Cloudflare, you might be surprised to find out that Cloudflare handles more than 10 percent of all HTTP/HTTPS Internet traffic worldwide.
In April 2021, Cloudflare announced that their product, Cloudflare Stream, would now support NFTs. This service takes an ERC-721 token ID and contact address and sets it on a video asset to represent each video stream with an NFT.
You would still need to use a platform like OpenSea or a tool like Minty to create the NFTs; however, these services don't host the NFT. Stream can be used with an NFT to store high-quality or more extended versions of a video that can be costly to store and distribute.
Like some of the other stocks on our list, Cloudflare is publicly traded under the ticker NET for about $41.58 per share right now.
Identifying NFT-Related Stocks
As the NFT ecosystem continues to grow and evolve, more corporations will continue to toss their hat into the ring in any way they can. Whether it's releasing their own limited edition NFT series, forming partnerships with NFT creators or NFT services, or offering a product or service to buyers, sellers, or creators of NFTs, digital art has become big business.
Keep your eyes out for rumors about new partnerships or releases on websites like Reddit or channels like Discord. While not every rumor will be true, you never know when you'll hear the next millionaire-maker tip.
In addition, watch out for press releases and other announcements from companies relating to NFTs or digital art. Corporations will almost always announce new initiatives and products via a press release, so if you time it right, you could find some excellent NFT stock opportunities.
Getting Into The Market
Now that you have a little background on NFT-related stocks, it's time to start doing your own research! There are all sorts of new partnerships, platforms, products, and NFTs being produced daily; you never know when the next big opportunity will present itself.
In addition to investing in NFTs and NFT stocks, you can also get exposed to NFTs by investing in various cryptocurrencies related to NFTs like Ethereum. When you join My Digital Money, you can trade cryptocurrencies in cash or a tax-advantaged crypto IRA.
Getting started on My Digital Money's crypto IRA software platform is fast and easy. There are no setup fees and no monthly fees to use My Digital Money, and once we receive all of your information, we're usually able to get you up and running within a few days.
Want to learn more about our platform? Click here to speak to a member of our support team, or you can click here to open an account today.